If you are looking for the best Similan diving sites, then your search ends right here. Similan Diving Safaris is a family owned business, western/Thai managed PADI Five-Star Dive Center situated in the heart of Khao Lak, Phang Nga Province, Thailand, opposite the Similan Islands.
Our services in the diving industry here in Khao Lak are unique in that we are a
We will take you to the most spectacular scuba diving destinations Thailand has to offer. Along with that we also provide all our divers a personal service during their Liveaboard Diving Safari.
We offer a wide range of opportunities for divers to enjoy a splendid time diving in safety at the Similan and Surin Islands, Thailand.
The Similan Islands and Surin Islands in the Andaman Sea on the west coast of Thailand are renowned for its pristine waters, excellent visibility and magnificent marine wildlife and fauna. Furthermore, the colourful corals, not to mention the spectacular reefs and pinnacles offer ideal conditions for seeing Manta Rays, Eagle rays, Leopard sharks, Whale sharks and a large variety of macro, nudibranches, ghostpipe fish and harlequin shrimps leaving you with a lasting memorable diving experience.

It sounds good, right? See our reviews on Google or Tripadvisor
Our Similan & Surin liveaboard
Dolphin Queen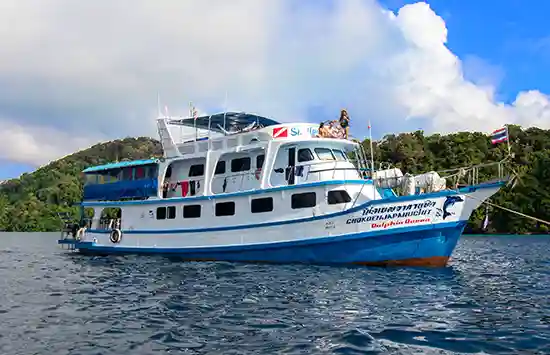 Season 2023 - 2024 schedule M/V Dolphin Queen available here
The M/V Dolphin Queen takes a maximum number of 20 divers. All cabins have private A/C and windows that open for your safety. We provide small dive groups for security and enjoyment (4 divers – 1 guide). Eco-friendly Biodegradable soap, shampoos and the use of plastic free water bottles are provided for free to all guests.
Our 5 Days 5 Nights liveaboard safari with 18 dives will allow you to explore the best dive sites in the Similan & Surin Marine National parks including Bon & Tachai Islands and Richelieu Rock. On this Safari you have ample time to explore the natural wonders of Similan & Surin Islands such as white sandy beaches, jungle trails, tropical island wild life and amazing view points of the Andaman Sea.
Our 3 Days 3 Nights Liveaboard with 10 dives is designed for divers with limited travel time. We have created a schedule that will allow you to explore the best dive sites in this short Diving Safari. This Safari gives you the opportunity to experience the beauty of the Similan Island's beaches and remarkable diving in the Similan Islands, Bon & Tachai Islands and Richelieu Rock.
Similans / Bon & Tachai Islands / Surin / Richelieu Rock
Similan Marine National Park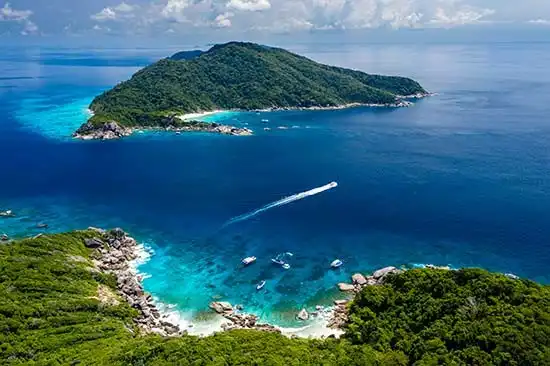 The Similan marine national park is an archipelago consisting of 11 islands, 2 of which are Bon & Tachai Islands. The islands are 65 km off the coast of Khao Lak in Phang-Nga province southern Thailand. The Similan Islands are considered among the world's best dive destinations that offer prospective divers a wide range of options in the diving season from mid Oct till mid May.

Visibility can generally range from 15 up to 50 meters during our diving season. Most of the dive sites in the Similan Marine National park starts at the depth of 25-30 meters therefore Open Water divers are encouraged to complete the Advanced Open Water course or the Adventure Deep Dive during or before the liveaboard safari. This will allow you to dive up to a maximum depth of 30 meters.
Similan Islands are 9 islands starting from island number 1 in the south finishing with island number 9 in the north. The 9 islands are made up of Giant Granite Boulders, which continue into the ocean creating a topography of Giant Granite Boulders dive site on the west side of the islands and on the east side of the islands you will find sloping coral reefs with white sandy bottoms.
The Similan Islands boasts of exceptional flora and fauna due to the Islands being uninhabited and closed for 5 months during the monsoon season (mid May till mid October). This closure gives time for the coral reefs and marine life to rejuvenate.
Koh Bon and Koh Tachai
Koh Bon (Bon Island) is the only Island in the Similan Marine National park that is made up of Limestone, which allows a variety of soft and hard corals to grow more easily. This Island is a haven for divers due to visiting Giant Oceanic Manta Rays and Whale Sharks and also resident Giant Guitar Fish, Marbled Rays, Jenkins Whip rays and many more different species of tropical marine life.
Koh Tachai (Tachai Island) is the last island of the Similan Marine National park located in the north. Koh Tachai has a plateau surrounded by giant granite boulders which attracts large schools of barracudas and giant trevallies. Sightings of Giant Oceanic Manta rays, Whale Sharks, Leopard Sharks, white tip and black tip reef sharks are possible here at Koh Tachai Plateau. Along the south and east side of the island we have beautiful sloping coral reefs with white sandy bottoms.
Surin Marine National Park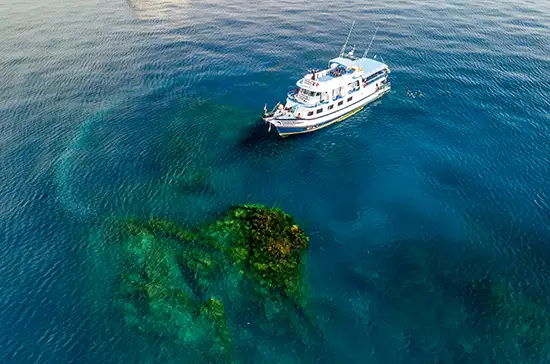 Surin Marine National Park is an archipelago consisting of 5 islands and Richelieu Rock. The Islands are 103 km off the coast of Khao Lak in Phang-Nga province southern Thailand and 88 km north from the Similan Islands. Like the Similan Marine National park, Surin Marine National park also has visibility that can range from 15 meters up to 50 meters during the diving season. The national park is open to tourists from mid October till mid May and is closed during our monsoon season (mid May till mid October).
Surin Islands are 5 islands which are Surin North, Surin South, Koh Ri, Koh Khai and Koh Klang. The Surin Islands are made up of Giant Granite Boulders creating a topography of shallow sloping reefs on the east side and giant granite boulder dive sites on the west side.
Surin South is home to one of Thailand's most interesting tourist attraction, which is the Moken Village. The Mokens are sea nomads who traditionally travelled the Andaman Sea between Thailand and Myanmar (Burma). In the 1990s they started to settle on the beach of Surin South forming a small village which you can visit during our surface interval.
On Surin North there is a ranger station and bungalows that tourists can stay overnight. The Surin Islands are mostly untouched which is a great opportunity for divers to explore new dive sites and amazing wild life on land.

Richelieu Rock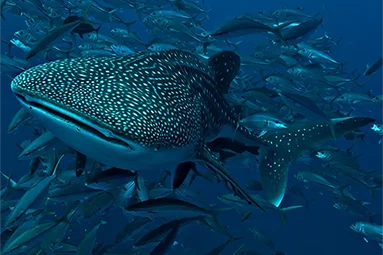 Richelieu Rock is a pinnacle located 16km east of the Surin Islands, it is also part of the Surin Marine National Park. Richelieu Rock is considered to be one of the most famous dive sites in the world.
This dive site is made up of Limestone, which allows more variety of soft and hard corals to grow on. It is also home to an impressive number of marine life. Big schools of Emperors, Trevallies, Barracudas, Fusiliers, Snappers and many more are residents at this dive site. The common macro life here are Thorny Seahorses, Tiger-tail Seahorses, Ghost-pipe Fish, Harlequin Shrimps and an incredible variety of nudibranch species. Richelieu Rock is also well known for Whale Sharks that occasionally pass by.
This is a must visit dive site for divers who enjoy macro and big schools of fish.
Fast track to
Schedule & Bookings Dolphin Queen
5d/ 5n -18 dives | 3d/ 3n - 10 dives
( group and charter bookings also possible )
PADI Courses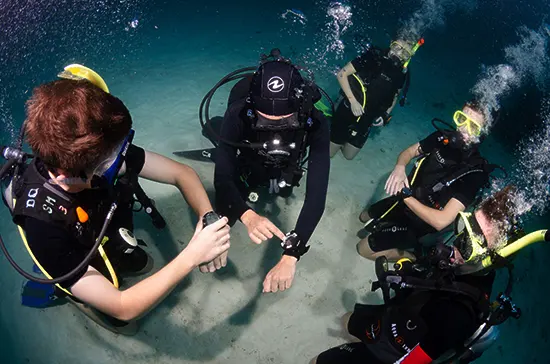 The ultimate way to do a PADI dive course or learn to scuba dive with Similan Diving Safaris is on our Liveaboard Dolphin Queen. Our highly competent and experienced international diving instructors are always at hand to guide you through the steps until you become a certified diver!
Courses offered are Open Water diver, Advanced Open Water diver, Nitrox, Emergency First Response (EFR), Rescue diver and Divemaster.

In 2019 PADI Asia Pacific proudly recognised Similan Diving Safaris 5 Star Dive center for 15 years of outstanding services.
Fast track to
PADI Courses
Why Choose Us?
Similan Diving Safaris was one of the first liveaboard companies in Khao Lak with over 20 years of experience diving the Similan and Surin Islands with an excellent service & safety record.
We specialise in eco-friendly liveaboard safaris, for our guests we provide free bio-degrable soaps/ shampoos, which help to reduce the acidity of the seawater that it has a low impact on the corals and marine life. Bio-degreadable rubbish bags are also part of our efforts to preserve the environment. Bio-degradable sunscreen is available at our dive center and on the boat.

Excellent reviews (TripAdvisor) are given by our guests about their diving experiences, our food and services aboard our liveaboard.
We pride ourselves in having some of the most competent and knowledgeable staff diving the Similans & Surin Islands, who are not only hospitable and multi-lingual but also great navigators when it comes to selecting the best sites for diving. Small dive groups with one instructor/ guide and 4 divers.
With all these packages at your disposal, diving vacations have never been better. Whether you are a beginner or a certified diver we got you covered.
Contact us today to book your amazing diving safari with the best diving Thailand has to offer in the Andaman Sea.
We will be more than happy to serve you!
Fast track to
Schedule & Bookings Dolphin Queen
5d/ 5n -18 dives | 3d/ 3n - 10 dives
( group and charter bookings also possible )