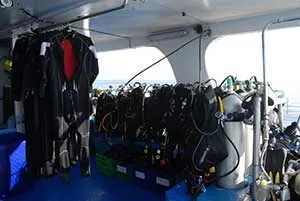 On the main deck at the stern is the Dive Platform and gearing up area for your diving equipment which has more than ample room to put on and store your dive gear. We have 40 Luxfer 12 ltr Tanks and we use INT connection, we do have DIN adapters and 15 ltr tanks for rent.
There are also 2 Bauer Mariner II compressors with an air cooling system with P41 air filters to give you the best Quality air.
Close at hand are the Similan Diving Safaris boat crew, who are there to help you gear up and help you on your dive entry and exit. The crew will fill the tanks so all you do is dive. Most of the time you will be picked up by our boat or our dingy.