Dive Master course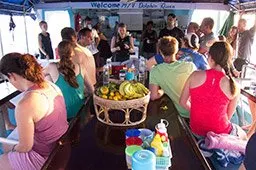 There is no better way to become a professional diver than with our unique PADI Divemaster package.You will work alongside our staff to learn how to guide other divers, navigate dive sites, and ensure the safety and enjoyment of those in your charge.
For our Divemaster Course, there are no set start dates, so feel free to start at your convenience. Contact us with your available time for the course so we can provide you with a schedule for the Divemaster course according to your needs.
During the course with Similan Diving Safaris, you will have a private instructor, and you will become part of a team. Helping all staff on board with different duties, from assisting courses to fun divers and general duties. We concentrate on making professionals and providing what each individual is searching for; this is why we do one-on-one services


All other training materials for the Divemaster course can be provided (BCD, Regulator, Mask, Snorkel, Fins, Booties, Wetsuit and Dive computer), although you may find that you will want your own by the end of the course.

We offer discounts and advice on equipment for the dive professional, and our prices are very competitive. If you have your Divemaster Manual it would be a great benefit for you to complete all 9 knowledge reviews from the PADI Divemaster Manual, prior to your arrival and read and complete the Knowledge Development Workbook questions. But you can also do it here with us, and your instructor will be happy to assist and guide you in the right direction.

The price does not include the crew pack and PADI profesional fee.
Prerequisites:
You must be 18 years old, Rescue Diver (or equivalent), have at least 40 logged dives, have completed adult, child, and infant CPR and first aid training in the past 24 months, or be a practicing medical professional such as a physician, Emergency Medical Technician, Paramedic and Registered Nurse.
Schedule & Bookings
Short term DAN diving insurance